Jobs in Montenegro suit both people of mental work (teachers, IT-specialists, bank employees) and physical (electricians, handymen, installers). It is quite possible for foreigners to find a job in the state. In summer, there is a great demand for workers in the service industry – maids, waiters, cooks, etc. Construction work is active from fall to spring in the country and getting a job as a crane operator, paver or other worker is quite easy. Regardless of the season in Montenegro, nannies, governesses, doctors are in demand.
Finding a job in Montenegro
The level of unemployment in the country is rather high – according to the State Employment Service, more than 55,000 residents are unemployed (about 24% of the population). At the same time, since the beginning of 2021, in the database of the employment center, there are more than 18 thousand vacancies, which Montenegrins are not rushing to fill. Therefore, local employers are actively recruiting foreign workers, especially specialists with higher education.
The most common way to find a job is through the Internet. The first thing to do is to visit the Employment Service website as well as specialized websites, both international and local. Forums and social networks will also be helpful, the latter are mostly used to post ads for seasonal employment.
Popular Montenegrin job search websites:
zzzcg.me – employment center of Montenegro;
careerjet.me – almost 3,000 vacancies in different areas;
posao.crna.gora.me – mainly temporary job offers;
prekoveze.me – vacancies for salespeople, managers, IT-specialists;
mojoglas.me and zaposli.me – job offers in different fields.
Other useful services for those, who want to find a job in Montenegro, can be:
learn4good.com and monster.com – international job search websites;
linkedin.com – a social network for professionals.
Some companies do not publish vacancies in the public domain. Therefore, you can send a letter to an organization you like to apply for a particular position. Even if at the time of application there is no vacancy in the company, the resume can be put aside in order to contact the candidate later.
Another option for finding a job is a preliminary visit to Montenegro as a tourist. Many recruiters place advertisements on the streets, near the establishment or on the front doors of shops/cafes. Thanks to personal presence in Montenegro, you can immediately meet with a potential employer and discuss matters of interest. There is also an opportunity to make useful acquaintances and thus get a job. Montenegrins like to talk a lot and loudly, so they easily come into contact with strangers.
Pay rates
The minimum wage in Montenegro is 331,33 EUR gross per month, the average wage is about 750 EUR pretax. The country's income tax is set at 9% for income below average, in other cases it is 11%. There is a municipal tax, payable at the place of residence of the person. In Podgorica and Cetinje, the rate is set at 15%, in other regions – 13%.
Average wages in Montenegro for each field
| Field | Average salary per month, € gross |
| --- | --- |
| Finance, banking, insurance | 1 450 |
| Gas and electricity supplies | 1 350 |
| Communications and information | 1 020 |
| Real estate | 980 |
| Healthcare | 970 |
| Teachers | 825 |
| Transportation, storage | 750 |
| Construction | 680 |
| Trade | 580 |
Jobs in Montenegro
Employment of foreigners in Montenegro can be permanent, seasonal or temporary. It all depends on the duration of the residence permit and the intended employment.
Temporary and seasonal work in Montenegro
Unlike most other countries, temporary and seasonal employment is different in Montenegro.
Temporary work entails 3 to 12 months for one of the following positions:
babysitter;
governess;
nurse;
car or yacht washer;
handyman;
crew on yachts;
dog walker, etc.
Seasonal work is employment for up to 8 months (mostly in tourism and construction). Some seasonal jobs in Montenegro are divided by gender: some are exclusively for women, while others are open only to men.
In-demand offers on the Montenegrin labor market for women:
maid;
dancer;
nail artist;
hostess.
Jobs for men in Montenegro:
carpenter;
builder;
electrician;
paver;
crane operator.
Another option for temporary or seasonal work in the state is an internship. In most cases, internships are international students studying in the field of hospitality business. Preference is given to candidates with knowledge of English. Internships usually take place in the summer and can be a gateway to permanent employment, enabling students to gain valuable contacts in local companies.
Types of permanent jobs offered by employers
Permanent employment implies a contract for a year or an open-ended. The Montenegrin labor market demanded specialists in IT-sector, financiers, bankers, managers, physicians. Translators of English, German, Italian, teachers of different profiles, qualified electricians and builders can also get a job.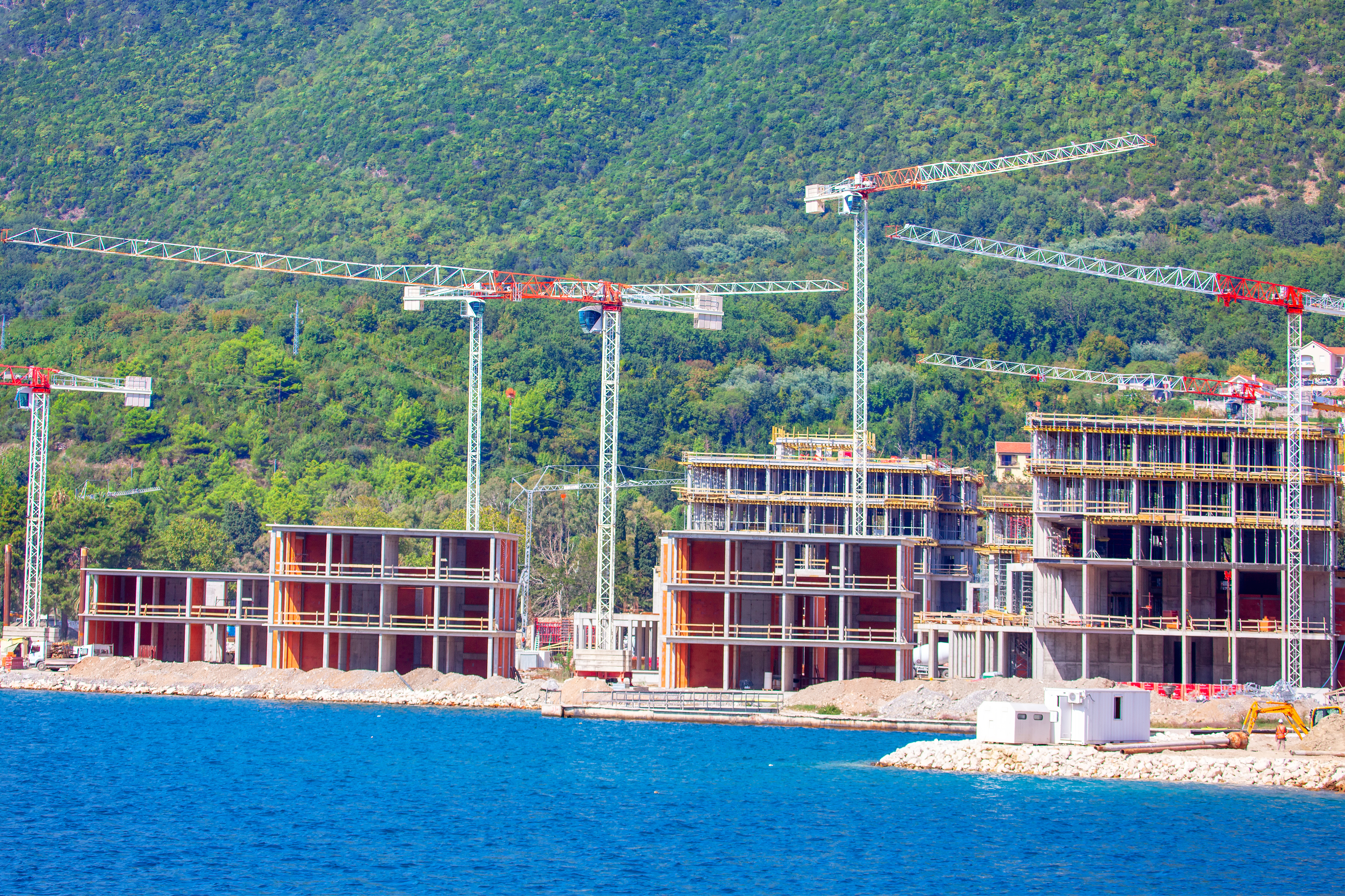 Getting a job in Montenegro
After a foreigner has found a suitable vacancy and discussed working conditions with the employer, it is necessary to obtain a Montenegrin visa and a work permit. Since 2015, the permit is combined with the residence permit, so they are issued together on the basis of an invitation from the employer. The immigrant is issued a single document – work and residence permit.
The next stage of official employment is the signing of an employment contract and notification of this to the compulsory social insurance system, which takes 8 days from the issuance of the residence permit. A foreign worker should carefully read the document, which should specify the working schedule, salary level, and validity period.
It is necessary to pay attention that unofficial employment in Montenegro is punished by the penalty, that is 6 800 to 8 500 EUR for the employer and 130 to 1 300 EUR for the foreign employee. It is illegal to work without a work and residence permit in the country.
Types of employment contracts
According to the term of validity of employment contracts in Montenegro, they are divided into fixed-term and open-ended. In the first case, the contract is concluded for a period not exceeding 24 months (but there are exceptions, for example, the need to replace an absent employee or work on a specific project). An open-ended contract is valid until one of the parties decides to terminate it.
Unlike CIS countries, the contracts in Montenegro are further divided into:
director's contract – a standard contract, fixed-term or indefinite;
high risk work – if the employee has the appropriate skills and health condition;
part-time job;
remote work – the employer can arrange this type of work if the conditions are suitable;
domestic tasks – part of the pay is covered by the provision of accommodation and meals.
Work permit in Montenegro
It is possible to work in Montenegro only on the basis of a permit. They are of two types: personal and standard. The first one is issued only to Montenegrin residence permit holders, refugees and foreigners belonging to special categories (with Serbian origin or family / kinship ties with residents or citizens of the country). Standard is suitable for self-employment and wage-earning employment. In order to obtain a permit, immigrants must apply to the Ministry of Interior office at the place of residence in Montenegro and submit the following documents:
a written invitation from the employer;
proof of education (diploma) and experience (employment record book );
a certificate of medical examination.
A foreigner has to submit fingerprints, a photo and an electronic digital signature. The application takes up to 20 days to be processed. Once approved, the immigrant receives a work and residence permit (dozvola za privremeni boravak i rad), which is equivalent to a residence permit and is valid for 12 months, with the right to be extended.
Work visa to Montenegro
To cross the Montenegrin border for the purpose of employment, foreign nationals need a long-term visa type D, which allows them to stay in the country 90 to 180 days. The documents are submitted by the applicant in person at the Embassy of Montenegro in the country of permanent residence not earlier than one month before the planned trip. The application for a work visa takes 10-14 days to be processed. After arrival in the country, it is possible to apply for a residence permit in Montenegro.
Documents for opening a work visa
A basic list of required documents (may be supplemented depending on the situation):
a passport with an expiration date exceeding the period of the requested visa by 3 months;
an invitation from an employer, confirming the purpose of the visit;
application form;
proof of accommodation in Montenegro;
bank account statement;
passport sized color photo;
health insurance;
receipt of payment of the fee.
It would be useful for those, who are planning to move to Montenegro to work, to read the reviews of foreigners already employed in the country beforehand. Immigrants point out the friendliness of the population and the ease of adaptation.
Difficulties with getting a job can occur, if you search remotely through the Internet, arriving as a tourist to find a job is much easier. It is also difficult for an immigrant who does not know the language: you need to know Montenegrin, or at least English. Most immigrants are not satisfied with the level of salaries, so they move to more developed countries after gaining experience, but qualified specialists can earn in Montenegro about 1 000-1 500 EUR.